Concrete Paving Services in Kennedale, TX
If you're looking for concrete contractors or concrete driveway pavers in or near Kennedale, TX, contact the pros here at Pate Jones Paving today!
Concrete Paving is Perfect for:
– Lot Clearing –
– New Installation –
– Parking Lot Repair (asphalt or concrete) –
When it comes to paving, asphalt isn't the only material that can be used. Concrete is also a preferred and popular option. Whether you are in need of patio or driveway work, we can get the job done.
Concrete paving requires precision, patience, and planning. It can get complicated, so it is always advised to leave this job to the professionals. Every one of our professionals is experienced, fully trained, and qualified to handle any size of paving project.
What Is Concrete?
Concrete is the result of sand and a coarse aggregate mixed together. Concrete is a popular material that can be used for concrete buildings, sidewalks, parking garages, and much more. Concrete is an affordable option and extremely easy to manufacture. This is what makes concrete extremely durable.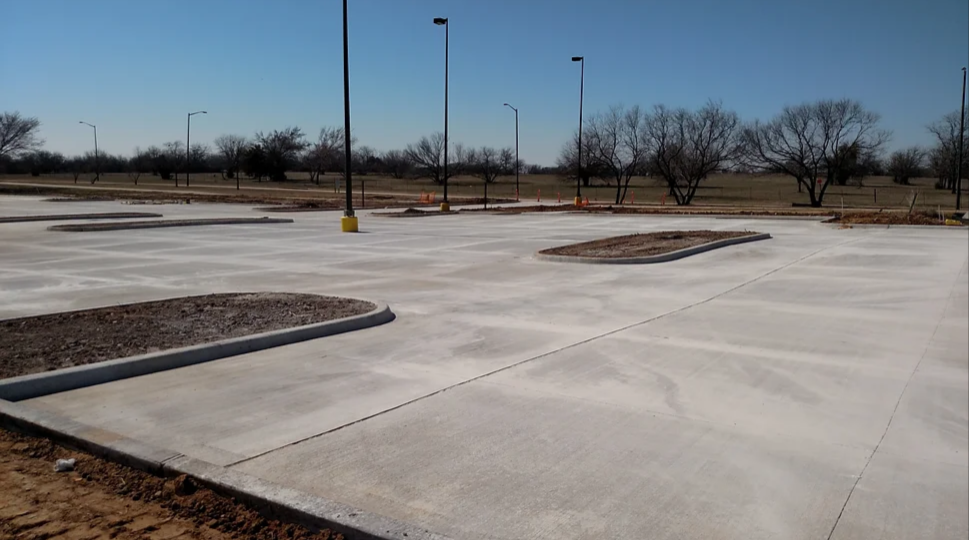 Maintaining & Repairing Concrete
---
Concrete that has become damaged is unappealing and can pose a safety hazard. Anytime you come across cracked concrete, you should contact Pate Jones Paving right away for a consultation. We will work with you to create a plan that suits your needs. We will then get to work right away and remove or replace damaged areas of concrete that are taking a toll on various structures.
Even though many commercial buildings are created from concrete, they still require frequent inspection and maintenance.
Sidewalks
Even though sidewalks don't get hit with heavy loads like ramps and parking garages do, they do receive constant exposure to other elements. Anytime your sidewalk has grime and visible cracks, maintenance services are needed.
Parking Lots
Your parking garage may not seem as obvious to you, but exposure and heavy loads can really take a toll on its structure over time, causing cracks and chips. We provide maintenance services including waterproofing, removal, replacement, and many more.
Concrete Entryways
The face of your business is your entryway. The way your entryway looks can speak a million words about your business. If your entryway is filled with holes, cracks, and loose concrete, do yourself a favor and contact the professionals at Pate Jones Paving today.
Borders, Edging & Curbs
No one wants to deal with an unattractive curb due to cracking and crumbling. This is also a problem because it can allow water to seep in causing major damage to the pavement surrounding it. The good news is that one of the best ways you can extend the life of your pavement is by having your borders, edging, and curbs waterproofed.
Contact Us Today for a Project Estimate
The pros here at Pate Jones Paving are ready to take on any concrete paving job you have. If you are ready to see a difference, reach out to us today so we can provide you with an estimate.